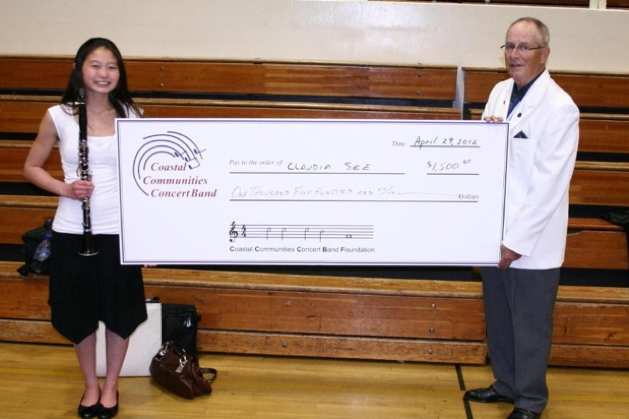 Your generous contributions allow us to perform a wide variety of music for our audiences, give scholarships to music students, commission new works for band, host Artists in Residence, buy needed instruments and equipment, and underwrite our concert expenses.
Cash/Donations
•Friends of the Band
•Caneva Scholarship Fund (music scholarships for outstanding high school musicians in the San Dieguito Union High School District)
• Jan Hurt Scholarship Fund (elementary school band tuition support for low income students)
•Coastal Communities Concert Band Endowment
Mail
Please send your donation to:
Coastal Communities Concert Band Foundation
139 Celaya Court
Solana Beach, CA 92075
Online
Donations can be made online via PayPal, using the following link:
Help the CCCB every time you search the Internet. Use the GoodSearch.com search engine and Goodsearch will donates about a penny per search to the charities its users designate. Use it just as you would any search engine. Get quality search results from Yahoo and CCCB will receive donations from GoodSearch.com.
Please email if you would like more information or if you have any questions.
Planned Giving
Planned Giving simply means using your assets instead of income to make donations. A wide variety of planned gift options available to you can reduce your gift, estate and/or income tax while increasing your income.
Wills and Trusts
Remember the Coastal Communities Concert Band Foundation in your Will or Trust by naming us as a beneficiary. There is no minimum amount. Any bequest entitles the donor to membership in our Legacy Society.
Retirement Plans or Life Insurance
You can designate the Coastal Communities Concert Band Foundation as a beneficiary of your Retirement account or your life insurance policy.
Gift of Appreciated Property Such As Stocks or Real Estate
Giving appreciated property like stocks, real estate or other valuables benefits the Foundation and you. In addition to the good feeling of giving, you will receive tax benefits. Your charitable gift deduction will be the value of the property on the date it is given. You will not owe capital gains tax. Check with your professional tax advisor to learn the specifics of how your donation will affect your income tax.
Donor Advised Fund
You can establish a donor advised fund with a Community Foundation such as the San Diego Foundation, the Rancho Santa Fe Foundation, or the Jewish Community Foundation of San Diego. The Community Foundation manages your philanthropic investment, but you decide which charities receive the income. Your gift keeps on giving.
Life Income Plans
With a Charitable Remainder Trust or a Charitable Gift Annuity, a donor makes a gift to the charity of their choice while also providing lifetime income With the assistance of our Community Foundation partners, you can make a gift to the CCCBand that provides lifetime income for you and your spouse.
When you create or modify your financial plan or estate plan, we recommend that you seek help from your accountant, financial advisor or attorney.
Please email development@cccband.com for assistance. We can provide materials or arrange a consultation to help you select the planned gift that is best for you. We will work with your professional advisers to facilitate their review of your gift.