ESCAPE to our 2019 Concert Season
Turn off your cell phone. Unplug your computer. Put something real on the books in 2019 – live music from the treasure of North County, the CCCBand.
Four concerts for the price of three
This musical year, our 36th, starts with a perfect mix of traditional band literature in our anniversary concert Musical Sensations. February 17
In April, the CCCBand continues its tradition of inspiring and cultivating fresh talent during the Salute to Young Musicians concert. Last year's Don Caneva Scholarship recipient Sergio Miragliotta will perform Bizet's thrilling "Carmen Fantasy" for flute. April 28
From both Stage and Screen come the most iconic and memorable melodies; we'll find the perfect ones for this summertime concert. June 23
The name of the game with Summer Pops is entertainment. No highbrow masterworks this time; these tunes will be nostalgic and fun. August 18
$60 for Adults
$45 for Seniors
(PayPal link below, no account required)
Our Series ends August 18, but we're not done yet! Save the following two dates, venues to be determined:
October 20, 2019 – Music from the 60s and 70s Tumultuous times of great change for this country are reflected in its genre-defining music.
December 8, 2019 – Our Holiday Concert has been bringing good cheer to North County for 25 years!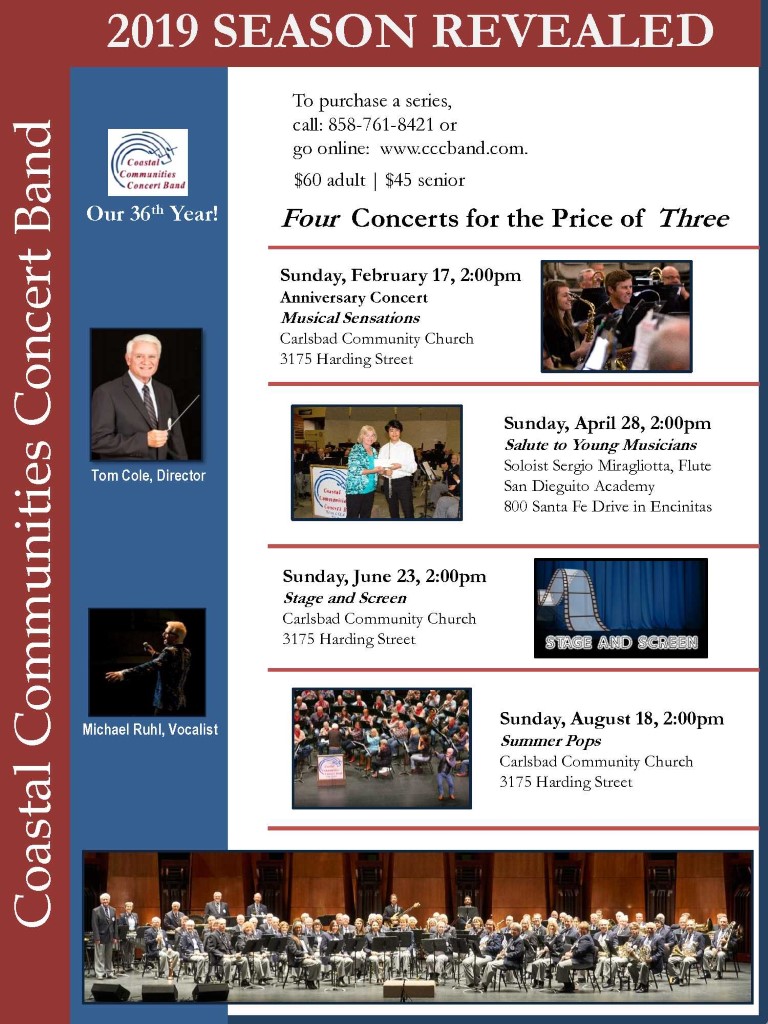 Pay online via PayPal (no account required):